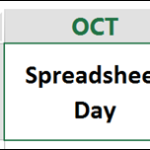 Here are a few of the spreadsheet articles that I found recently, that you might find useful:
Randall Bolten lists 19 spreadsheet tips that will make you a faster and better spreadsheet user. There are 2 categories – Instant payoff tips, and long-term payoff tips.
Did you know that you can use a function to display images in a Google spreadsheet? Learn that tip, and 9 more things you can do.