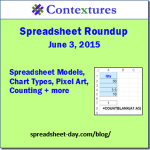 Here is a roundup of selected spreadsheet articles that I've read in the past month. You'll find interesting tips, useful sample files, and new ideas for your own spreadsheets.
For a weekly Excel Roundup, please visit my Contextures blog.
If you have suggestions for next month's spreadsheet roundup, please let me know. Thanks!