Welcome to the Spreadsheet Day blog, which celebrates the joy and challenges of working with spreadsheets. The annual Spreadsheet Day is on October 17th, and was first celebrated in 2010.
I'm Debra Dalgleish, the founder of Spreadsheet Day, and owner of the Contextures Excel website and blog.
Spreadsheet Day History
In 2010, October 17th as was chosen as Spreadsheet Day, because VisiCalc, the first spreadsheet for personal computers, was released on October 17th, 1979. Here is a brief history of Spreadsheet Day:
2010
In February 2010, I proposed that we celebrate Spreadsheet Day, and asked for suggestions for an appropriate date.
In March 2010, I conducted a poll, to vote for the date, based on all the suggestions
October 17th was the winning date — it was the VisiCalc release date, in 1979
This Spreadsheet Day blog was created in July 2010, to serve as a coordination point for the annual event
In early October 2010, I reminded readers that the first Spreadsheet Day was only a week away
On the first Spreadsheet Day, Oct. 17, 2010, I posted announcements on this blog, and on my Contextures blog.
2011
2012 – 2013
2014 – Present
Spreadsheet Day Logo
The Spreadsheet Day logo was created in Excel, using the OCT column heading, and row 17.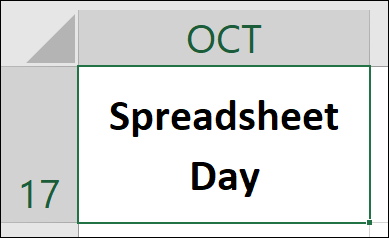 Sunflowers
Why are there sunflowers in the header image? Every day is sunny, when you're working with spreadsheets!
Also, the sunflowers are lined up nicely, like a spreadsheet grid, and they look like they're celebrating.
___________________
Save
Save
Save
Save