Spreadsheet Day 2017 Wrap Up
Thank you for celebrating Spreadsheet Day 2017! It's been growing every year since I started this event on October 17, 2010. Here is a Spreadsheet Day 2017 wrap up, with some of the day's highlights.
Apple II and VisiCalc
Quartz had a feature article for Spreadsheet Day — Apple's first big break came because of the spreadsheet. For the first two years that VisiCalc was available, you could only run it on an Apple II. Dan Bricklin described the importance of that, in his 2015 interview with Quartz:
"VisiCalc…helped them sell the machine, which provided the money that went into the development of the Macintosh."
Watch the video at the end of the article, to see Steve Jobs talking about VisiCalc.
Quartz Obsession
Spreadsheets were the topic in yesterday's edition of Quartz Obsession. If you didn't get that email, read it online. There are several short articles, a quiz about Excel functions, and a 1-question spreadsheet survey.
Bricklin and Frankston
Yesterday, Centage Corporation honoured VisiCalc creators, Dan Bricklin and Bob Frankston, by naming a new training room for them. Bricklin and Frankston attended the event, and spoke about the early days of VisiCalc.
Spreadsheet Day on Twitter
There were lots of tweets about Spreadsheet Day too, and here are some of my favourites.
______________________________________________
Happy #spreadsheetday to all the fabulous data peeps out there. May your top row be fixed and your data be clean. pic.twitter.com/IAuRSFzujs

— Karrie Kehoe (@KarrieKehoe) October 17, 2017
______________________________________________
This is what separates the Excel masters from the wannabes #SpreadsheetDay pic.twitter.com/cFfA8fTri6

— Ashley Richardson (@iashleyrichards) October 17, 2017
______________________________________________
Meet the two guys who invented the first-ever spreadsheet #SpreadsheetDay pic.twitter.com/j2hIr486zb

— Business Insider (@businessinsider) October 17, 2017
______________________________________________
Sheets, you keep us organized, prioritized, and allow us to Explore like never before. Happy #SpreadsheetDay. pic.twitter.com/imBMfJrFkV

— G Suite (@gsuite) October 17, 2017
______________________________________________
Happy #SpreadsheetDay! Just for fun, I decided to build a game in #Excel, so here's my version of Blackjack: https://t.co/8wofSuK4vY pic.twitter.com/GY40IeU4GU

— Ken Puls, FCPA, FCMA (@kpuls) October 17, 2017
______________________________________________
In honor of #SpreadsheetDay, a look back at @StevenLevy's 1984 piece on the Apple program that started it all: https://t.co/22qp2uVLJU

— Backchannel (@backchnnl) October 17, 2017
______________________________________________
It's National Spreadsheet Day! We're celebrating with some pretty advanced vlookups, how about you? #nationalspreadsheetday #spreadsheetday pic.twitter.com/X57TqjYZHy

— CPA Canada (@CPAcanada) October 17, 2017
______________________________________________
Happy #NationalSpreadsheetDay !Meet the creators of the first spreadsheet @DanB and @BobFrankston! With @samrega pic.twitter.com/qSRoKnfnXD

— Sara Silverstein (@IChartNY) October 17, 2017
______________________________________________
Dan Bricklin mentioned other spreadsheet people:
Don't forget Doug Klunder who did Excel (and I think MultiPlan before it) and the Google Docs team, the spreadsheets most use today. https://t.co/Nl5TEG4iWP

— Dan Bricklin (@DanB) October 17, 2017
______________________________________________
And finally, it's hard to top this tweet from Mitch Kapor (Lotus 1-2-3)
Today is National Spreadsheet Day, commemorating the introduction of VisiCalc on this day in 1979. That is all. https://t.co/Yx50Nss8wV

— Mitch Kapor (@mkapor) October 17, 2017
___________________________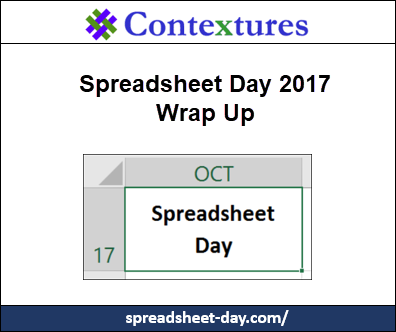 ___________________
Save
Save