Happy Spreadsheet Day 2017
Happy Spreadsheet Day 2017! What special events do you have planned today, as we celebrate this glorious occasion?
Spreadsheet Day History
In 2010, I started Spreadsheet Day, and you can read the details on the About page of this blog. If chocolate, and hot dogs, and beer have their days, then spreadsheets should certainly have one too – don't you agree?
It's been getting bigger every year, so let's keep building it! To help spread the word, be sure to tell all your friends, family and co-workers about Spreadsheet Day. Make a tweet or two, announce it on your Facebook timeline, or get one of those airplanes that pulls a banner, and fly over your city – and be sure to make a video of that!
VisiCalc Release Date
October 17th is our celebration day, because October 17, 1979, is when VisiCalc was first released – the first spreadsheet for personal computers. Read more about VisiCalc in the Spreadsheet History section.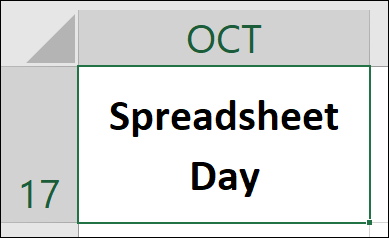 Passion for Spreadsheets
On my Contextures blog today, I've asked people to describe their passion for spreadsheets. That was inspired by this tweet, from Liz England. Click the link in the date, to see that thread.
Is it okay to include "passion" in a job description if the context is "passion for spreadsheets"? Asking for a friend.

— Liz England (@lizardengland) August 2, 2017
Spreadsheet Day Celebrations
How are you celebrating Spreadsheet Day 2107?
At Tiller, where they love spreadsheets too, they'll be eating a delicious "sheet" cake. What a great idea! They asked me a few questions about Spreadsheet Day, and you can read my responses on the Tiller blog.
I wonder if the Tiller cake will be as awesome this one, that Albert Kroes ordered for his department at work, a couple of years ago. It shows an old VisiCalc screen, and the software release date — October 17, 1979. Albert set the bar pretty high for the rest of us!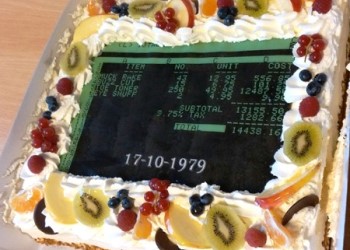 _______________________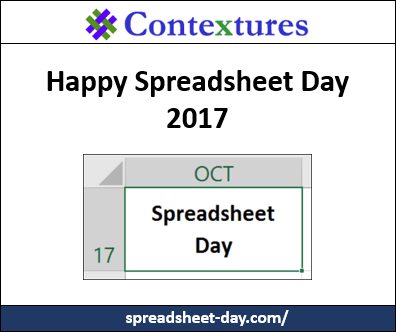 _______________________