Get Ready for Spreadsheet Day 2016
In exactly one week, on Monday October 17th, it will be Spreadsheet Day 2016. We'll be celebrating on a Monday this year, so maybe you can turn it into a long weekend.
The Spreadsheet Cake
Last year, Albert Kroes had a beautiful spreadsheet cake made, in honour of the occasion. The people in his department at work really enjoyed it, and I'm glad he sent me a photo that I could share.
The date on the cake, October 17, 1979, is when VisiCalc was first released, and that's why we celebrate Spreadsheet Day on October 17th each year.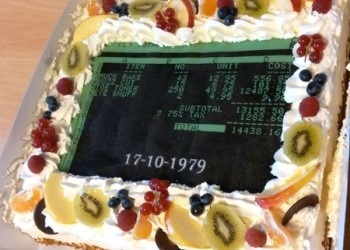 It's a Special Day
Spreadsheet Day is recognized in a few online calendars and other websites.
Days of the Year – Spreadsheet Day
The Atlantic – Spreadsheet Day
Get Ready for Spreadsheet Day 2016
I hope this announcement gives you enough time to make your plans! We'll see you back here next Monday.
If I see any Spreadsheet Day blogs or articles between now and then, I'll link to them here.
_______________
Save