Track Your Golf Scores in Excel
If you're playing golf this summer, keep track of your golf scores in this free Excel template. How many Birdies do you have so far this year? What's your average score? Even when you're golfing, it's Spreadsheet Day!
Enter Your Golf Course Info
At the start of the season, enter the course information – what is the par for each hole?
Excel formulas calculate the totals for the front nine holes, the back nine holes, and the course total.

Enter Your Golf Scores in Excel
Then, each time you play a round of golf, enter the date, and your score for each hole.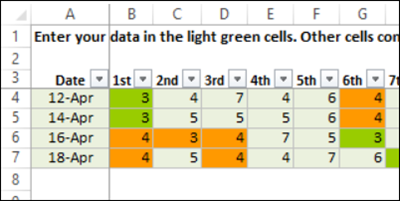 Also enter your handicap, and Excel will calculate your net score.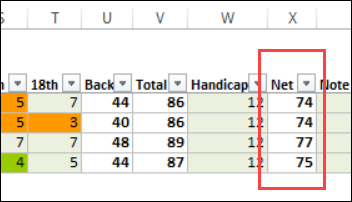 There are a few rows in the Scores sheet already, and you can add more as you need them. The table will expand automatically when you add a new row.
Your Golf Summary
As the season progresses, you can see how you're doing.
On the Summary sheet, Excel formulas show how many rounds of golf you've played, your overall low scores, and your overall average scores.

The Summary sheet also shows your best score on each hole, and your overall average for each hole.
Conditional formatting highlights the pars, and the below par scores.

Eagles, Pars and Bogeys
There is also a list of Eagles, Birdies, Pars, and other scores, with your count for each hole.
In this section, conditional formatting is used to colour the cells that have the most frequent number in each row. For example, for Pars, 2 is most frequent, and is highlighted for holes 1, 3, and 6.
Download the Excel Golf Scores Template
To download your free copy of the template, go to my Contextures website, on the Excel golf scores template page. Click the link near the top of the page, to go to the download section.
There is also a section on how the conditional formatting works, to highlight the par and below par scores.
The zipped file is in xlsx format, and does not contain any macros.
_______________