Spreadsheet Roundup 20150904
Here is a roundup of selected spreadsheet articles that I've read over the summer. You'll find interesting tips, useful sample files, and new ideas for your own spreadsheets.
For a weekly Excel Roundup, please visit my Contextures blog.
If you have suggestions for next month's spreadsheet roundup, please let me know. Thanks!
1. Classroom Spreadsheets
School has started again, and if math teacher Mohammed Ladak could only use one piece of software in his classroom, he would choose Excel. See a few examples of how he uses it in lessons.
2. Using Logic in Formulas
You can add logic to a spreadsheet formula with the IF function. Use a single IF:
=IF(test something, result if true, result if false)
Or created a "nested" IF formula, with multiple IFs. Glen Feechan breaks down the steps for building a nested IF formula on the worksheet.
There are simple IF and nested IF examples on my IF function page.
3. Chart Labels
Jon Peltier shows 5 ways you can add custom labels to your Excel charts. The methods range from quick and easy (type over the existing labels) to using programming.
4. What Do You Need?
Dan Harrison reminds us to validate the real business requirements, before building something in a spreadsheet. What someone asks for might not be what they really need!
5. Productivity Tips
Chandoo shared 25 shortcuts and tricks to boost productivity, and they're focused on Excel, but you can apply some of them to other types of spreadsheets too.
Tip #22 is one that I use frequently – press the F4 key to repeat the last action. It doesn't work for everything, but it's a real timesaver!
6. Designing Dashboards
On her Excel for Educators blog, The Science Goddess shows her steps for designing dashboards to show student performance in different grades and subjects, over 4 years. See the different versions that she created, for demographic and achievement data, and the final results. You'll get good ideas for your own dashboards.
7. Best Tips in 40 Years of Excel
Bill Jelen (Mr. Excel) has just released his latest book, Mr. Excel XL – The 40 Greatest Excel Tips of All Time. This is a beautiful book, packed with great tips, colour photos, and a nice touch of humour.
It even has 40 of my favourite tweets, from the weekly collections on my Excel Theatre website. And here is one of my favourite tweets from this summer – "Wrote a macro to save time. Closed Excel without saving it."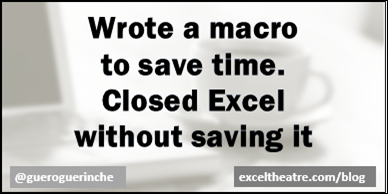 That's it for this roundup, and remember, if you have suggestions for the next roundup, please let me know. Thanks!
________________