Spreadsheet Day 2014 Roundup
Yesterday was Spreadsheet Day, and we celebrated the 35th anniversary of the VisiCalc release and shipping date.
The celebration is getting more popular every year, and below are some of the articles that I found yesterday.
Thanks to everyone who participated!
Spreadsheet Day 2014 Articles
If you know of any other articles, please let me know.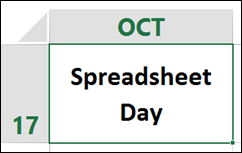 ______________________