Create Labels in Microsoft Excel
On her blog, A Typical English Home, Angela Shear shows us how to make labels in Excel.
These aren't the typical, boring address labels that you'd make at the office. No, these are fun labels, that you can stick onto a child's toy box, to show what's inside.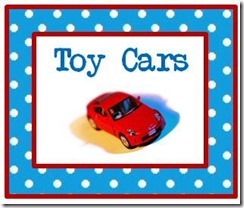 Easy to Use
Yes, Excel was built for budgets and lists, but creative people have found thousands of other uses for it too. As Angela explains:
"All you need is Microsoft Excel. It is incredibly user friendly and even though I'm relatively proficient in the Paint Shop Pro software I've had for years I still tend to favour Excel for label making!"
See the Instructions
I don't see a sample file that you can download, but there are step-by-step instructions for making the labels.
To see the details, click here: How to Make Labels
__________